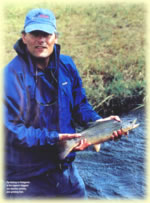 Fly-fishing in Patagonia is the region's biggest eco-tourism activity, and growing fast.
Rodrigo and I moved up another bend in the creek, the wind bored into my body throuigh my pores. Rodrigo pointed out a little seam he thought I should cast to. I laughed and bonked the back of my head with the lead -eye sculpin. But as soon as i put the fly in the water, i hooked, struggled with, and quickly landed a 21-inch brown.
"Close to a Kiss-fish", i told Rodrigo.
"maybe we should quit," he said. "Go over to Argentina."
We didn't quit, and arround the next bend the stream openes in a long, straight run. Current bounced off a shelf and sliced out the left bank in a slight divot. There was a stream about two feet wide sheltering a back eddy flush against the bank.
"Cast in here" Rodrigo said.
I loughed. He was serious.
Eventually i made the cast. The water's surface bulged as a trout rushed to my fly. This was a very nice fish, and it raced all arround the narrow sluice pf stream in front of me. It burst upstream and wrapped itself several times arround the roots of an overhanding plant, then commenced to lead into the air and splash back into the water. Again. and Again. Four times.
I realized that on such a short leash -the fish wrapped leader, not line, around the roots- all that leaping would mean a clean break pretty quickly, and I had suddenly become emotionally attached to this rather hefty fish. I tossed Rodrigo the rod and plunged into the creek, provoking more leaping from the fish. I yanked my line free of the tangle and then wrangled the trout. It was easily over 23 inches long. Rodrigo looked at me.
"Let's go to Argentina," I said.
So we did. We drove 15 minutes up the gravel road past a highland swamp upon which sailed black-necked swans and upland geese. Black-faced ibis stalked the marshy shallows. The spring creek wound through these wetlands and came out the other side, channelized again. We saw its elegant scribble reaching far across the pampas.
"We are wanting to explore that," Rodrigo said, about some more never-been-fished waters in the distance.
We passed through Chile's and the Argentina's border crossings. Argentina seemed even more windswept and desolate, but 10 minutes later, at a nondescript wooden gate, we turned onto Estancia Numancia and drove a long dirt lane through clots of sheep. A body of water opened to our right and we saw, seemingly floating above the suface of the lake, the puffy pink bodies and question-mark necks of flamingoes. Thousands of coots and ducks dotted the water's surface. We approached a wooden bridge, transparent from missing so many planks. Rodrigo afforded us the option of exiting the verhicle before he drove over it.
"The bridge will hold us, I know," he said, "but if you don't want to try..."
It held. We drove a bit farther and, though there was little evidence that stream wound through the windswept grasslands ahead of us, we stopped and walked overland about 30 yards. The stream opened its course beneath us. About twice as wide as the Zorro spring creek, it worked through deeply gouged cutbanks and beds of aquatic weed.
Whereas all the trout on the Zorro creek were browns, this argentine spring held only chrome-flanked rainbows, which attacked my fly with fervent recklessness. The rainbows dont's grow as large in this creek as the browns across the border -both Burgin and Rodrigo told me they've found some fish well into the twenties, but nothing gigantic. What they might have lacked in size, however, the Argentine rainbows overcompensated for with ballistics. Few casts failed to turn fish, and few fish failed to launch an air show once they came tight on the line.
On the short drive back across the border, I kept my eyes on the sky, looking for Andean condors, wich congregate inthis area.
"Listen, Rodrigo," I said, "about that kiss. Maybe we'll work on that the next time I come to Chile."
"Don't look for me", he said.
That settled, we drove along contentedly. Rodrigo spoke of his family and his dreams. "What I want to do is get a pilot's license, fly helicopters," he said. "We have a bunch of lakes, they're full of big salmon and trout and nobody can get to them."
Never been Fished.