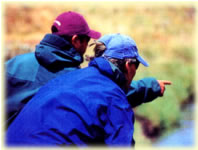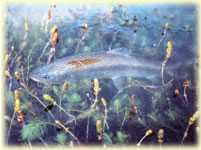 In addition to the countless side streams and spring creeks, there are scores of mountain lakes brimming with trout and salmon that nobody can get to.
The wind was blowing so damn hard I honestly doubted I'd be able to throw my fly into the water, let alone present it in any way that might trigger the brain of a smart fish. So the statement seemed like a safe way to awaken Rodrigo to my desires without committing either of us to anything life-altering. And my ver sexy and beatiful girlfriend, Ronni, was standing just down the bank snapping photos, so I didin't think I was creating unreasonable expectations: look, I don't think I'm going to do too well today, but if Ido, boy will I be excited!
The Zorro spring creek winds in figure-eight S-curves through broad pampas. The land here opens and rolls like the lower Madison Valley -bunchgrass flats and deep scrubby ravines, forested benches with rimrock upper lips- only greener, more fuzzy and lush. The first pool I approached with Rodrigo was the same one I'd fished two days earlier when I took a fine 16-inch brown on a Taylor's Fat Albert Beetle. I was told that the creek bottom was crawling with pancora, a boxy little cross between a crab and a crayfish that he referred yo as "the building blocks of giant trout in South America."
Rodrigo thought I should dispense with the niceties of dryfly fishing, slap on a Nere Nuff Whitlock Scuplin, and dredge subsurface without ceremony. At any rate, I was already believing most everything Rodrigo said because he'd spent his whole life fishing in this area, beginning as a boy wrapping monofilament around a coffee can.
One thing I love about operations like Estancia del Zorro is they give guys like Rodrigo the opportunity to share their local knowledge. It'd be easy enough for the owners to pack their two Chilean lodges with American guides-for-hire on snowbird hiatus from Montana and Alaska. I understand, too, that some folks, when they go fishing in far-flung places, want their guides to serve sandwiches with mayonnaise and American cheese, be conversant in American stock prices, and speak perfect English. But if I go to Chile to fish, I want to learn a little about Chile -beyond the flourishing wine selection- while I'm in the midst of it.
So the lodge's program of educating Chileans through an apprenticeship program and training them in the finer points of American fish-guiding is, to my thinking, a terrific thing for all involved, particulary the end-users (visiting anglers). And I appreciated it more sincerely every time Rodrigo spoke about his country. He talked of love gone wrong and fabulous adventures. He told me that his father was thrown in jail twice for not getting home by dark during the infamous curfews of the dictatorship -a chilling reminder that, even in this isolated outpost, Augusto Pinochet's grasp was never far away.
These are pieces of Chile only a local can give you. When we see a small black bird with a red back, a negrito, Rodrigo tells us that it's colloquially called the colegial -the student- because of its red backpack. He calls the goofy Andean lapwings "hangry birds" because, "when you get close by they make a lot of noise, like they're hangry." >>Next Page