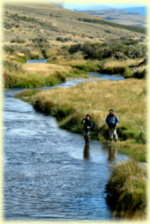 Chilean Patagonia's Estancia del Zorro is in the Coyhaique Alto mountain range on the Chilean-Argentine border, 23 miles from Coyhaique, Chile. The 15,000 acre Estancia rests in the habitat of the red fox (zorro), the namesake of the Estancia. An abundance of condors, ragles, a myriad of other birds, and unexplored brown trout entice flyfishers and bird watchers to follow the trail of the red fox.
You and a knoledgeable, patient guide explore the holls, canyons, forests, mountains, pampas, and waters of the Estancia. Your guide helps you flyfish for brown trout on two rivers and on a 15 mile spring creek with browns up to an astonishing 12 pounds, all within the Estancia's private boundaries.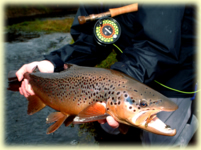 Guest stay at the Estancia del Zorro in Chile to fish and explore private waters in both Chile and Argentina on this trip. We combine fishing for resident brown trout on the Estancia del Zorro with fishing for rainbows on an Argentine Estancia.
After breakfast, you alternate fishing locations during your stay. You fish one day in Chile. The next day you cross the border into Argentina With your bilingual guide. a Scenic 35-minute drive across the Chilean-Argentine border traverses the Argentine pampas to the river. On the road to the river, you pass small lagunas - habitat for swans, shorebirds, and pink flamingos.